You're visiting Austria and you want the original Mozartkugeln from Fürst? Sadly, you can't get them in Vienna or anywhere outside of Salzburg. But there are still some options that may work for you.
First of all, sorry for the clickbait title! However, I figured it's better for you to find this article and get a definitive answer. Otherwise, you just spend useless hours in Vienna, asking around just to get (probably) unpleasant answers. Also, I will update this article should Fürst ever decide to sell their Original Salzburger Mozartkugel in Vienna. At least for now, I can also provide some alternatives, that may work for you.
Travel to Salzburg
Okay hear me out, this is not as crazy as it sounds. If you check the Austrian railway ÖBB you discover that it costs you a whopping 60 Euro to go by train to Salzburg, that's per person in just one direction! To get discounts you would need to buy a Vorteilscard which costs you another 66-100 Euro or more per person. So long story short, if you decide this spontaneously it's going to cost you a lot.
But you could plan ahead, which changes everything. ÖBB offers so-called Sparschiene tickets and they might even go down as low as 19,9 Euro per person and direction! The downside? They are only available a few weeks in advance and are only valid for the specific time and train you book it for. Those tickets are shown in the normal ÖBB online booking, so look online for the dates and you should see them in the list.
Another alternative is Westbahn. Their normal tickets are roughly the same as ÖBB, but they also offer WESTsuperpreis tickets. Those also need to be booked in advance but are again way cheaper. Sometimes they also offer other cheap tickets, so it's always a good idea to look around on their website.
Is it worth going just for the Mozartkugeln to Salzburg? That's for you to decide. Salzburg is a very lovely city, offering many sightseeing spots like the Festung Hohensalzburg, the Mirabell Garden, or the old city district with many churches. And for me personally, I always like to take a walk up the Mönchsberg when I visit Salzburg to enjoy the great view. And if you really are a big fan of Mozartkugeln you can check out the Where to buy Mozartkugeln in Salzburg article, because there are actually quite a few available, not just from Fürst.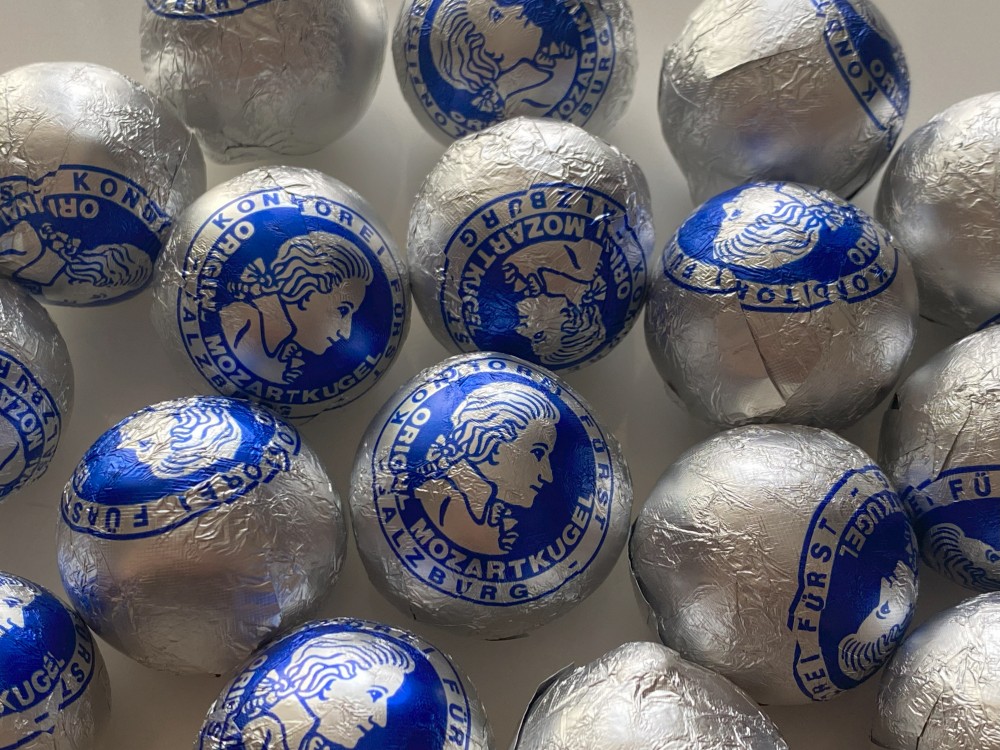 Order them online
Fürst has its own online shop. Depending on how long you stay in Austria you could just order them to your hotel (maybe even in advance). Fürst also delivers to many other countries, so this may be the easiest way for you to get the Original Mozartkugeln. However, they don't send them out during the summer, so this only works for you depending on when you visit Austria.
You can of course also go one step further and use a proxy service. There are some services that offer parcel forwarding, so should you visit Austria from far abroad this might be the solution to get Mozartkugeln forwarded to you.
Get alternatives in Vienna
If you're visiting Vienna you can choose between some local alternatives specific to Vienna. They might be not the "Original" but are still very tasty. Check out the Where to buy Mozartkugeln in Vienna article for more details on where you can get handmade Mozartkugeln in Vienna.