Running low on NAS disc space? You might stumble upon two different variations of the Western Digital WD Red 10TB and wonder which one to choose.
WD100EFAX vs. WD101EFAX
The first thing you might notice is the lower price of the WD101EFAX, at least here in Europe. But looking at the specifications below, you quickly notice some odd trade-offs. The WD101EFAX is louder and consumes more energy:
WD100EFAX
WD101EFAX
WD120EFAX
capacity
10TB
10TB
12TB
Interface Transfer Rate up to
210 MB/s
215 MB/s
196 MB/s
Average power requirements (W) – Read/Write / Idle
5.7 / 2.8
8.4 / 4.6
6.3 / 2.9
Acoustics (dBA)
Idle
/ Seek (average)
20 / 29
34 / 38
20 / 29
Source: Product Brief: WD Red NAS Hard Drives
I also added the 12TB variation for a better context. But what is the actual difference between those two models?
Helium or Air-Filled?
Western Digital doesn't communicate the difference between the two hard drives and a quick online research doesn't reveal much either. However, a German message board points to an article about the Western Digital Ultrastar DC HC330. The big feature of that hard drive was the usage of air compared to helium. The trade-off? More energy consumption and a higher operating noise.
Users on r/DataHoarder reached similar conclusions , a quick search on this subreddit also reveals that many dislike the newer model for its loudness and temperature. Some users also pointed out that Western Digital (and other manufacturers) quite recently conceiving product changes, regarding the usage of SMR over CMR in some drives.
One argument popping up very often concerns the reliability of helium-filled hard drives. But according to backblaze.com the Annualized Failure Rate (AFR) seems to be the same compared to air-filled hard drives.
Which one to buy?
Looking at the comments on Reddit, users seem to be rather unhappy with the WD101EFAX. Comparing the prices of those two hard drives it gets even worse. The old WD100EFAX was basically never sold much bellow the 300 Euro mark and usually more around 330 (according to a price comparing website). The WD101EFAX is currently sold at around 300 and was never cheaper than 290. This means you save 10-40 Euro to get a hard drive which is 9 dB(A) louder and consumes 2,7W more power, its also only 5MB/s faster.
However, whilst writing this article the prices for the WD100EFAX are already at around 350 Euro. Plus I wouldn't trust retailers to differentiate strictly between the two models. But hey, at least my order was canceled after they discovered it.
12TB alternative
Taking a look back at the table above, you might notice a certain 12TB hard drive. If you're using Synology's Hybrid RAID (SHR) you potentially loose 2TB, but the WD120EFAX is currently sold for roughly 350 Euro, landing in the ballpark of the old 10TB. Of course, it's using 0.6W more compared to the WD100EFAX and it's 14 MB/s slower. But comparing the specs to the current WD101EFAX you might end up with something better, especially if you're used to the WD100EFAX.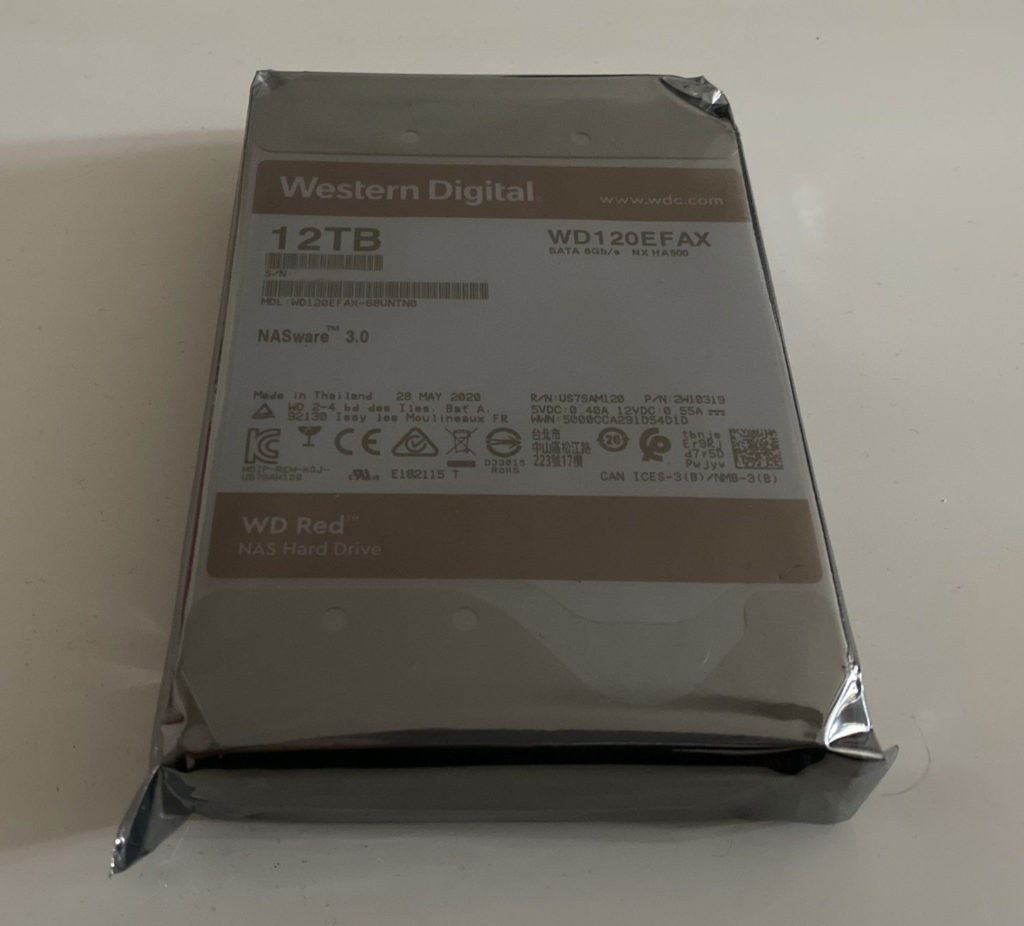 But I do hope that this topic will get more publicity, including detailed comparison tests. What's even worse, it also shakes my trust in Western Digital. Selling a hard disc with noticeable worse specifications at an almost unnoticeable price difference without even communicating whats changed brings to mind the recent SMR/CMR issue. Which is a pity, since I have a very good track record with Western Digital hard drives, so I do hope that this kind of product changes will be communicated more open in the future. This way I can decide for myself to stock up on the old model or wait for the newer one to get cheaper (and live with the downsides).
---
New specialty coffee shops in Austria in 2022

It's long overdue to look back at last year and see what new specialty coffee shops opened in Vienna! In this blog post, we'll take a closer look at some of the new third-wave coffee shops that opened in Austria and explore what makes them stand out and what they offer.

New Mozartkugeln in 2022

2022 was a great year for Mozartkugel fans. More than a dozen new varieties were launched. This includes variations of already established brands, new fruity seasonal ones as well as completely new brands entering the market. Therefore it's time to look back at 2022, to give you a brief overview of the new additions.

Writing walkthroughs and game news in 2008

Even though I was mainly writing walkthroughs for video games, I always tried some other text formats on the side. I did write a few reviews for a no longer existing German video game website, a short event impression and I even did an interview once. But gaming news was rather new for me.