2022 was a great year for Mozartkugel fans. More than a dozen new varieties were launched. This includes variations of already established brands, new fruity seasonal ones as well as completely new brands entering the market. Therefore it's time to look back at 2022, to give you a brief overview of the new additions.
Seasonal Mozartkugels from Reber and a vegan option
Already a great tradition, Reber released two new seasonal Mozarkugels under their Constanze Mozart-Kugel brand. In spring they added the Cocos-Ananas (Cocos-Pinable) flavour, a very summer-focused variation. In fall they added the Zwetschge (prune) Mozartkugel. Both are very fruity and a welcome change to the usual flavours.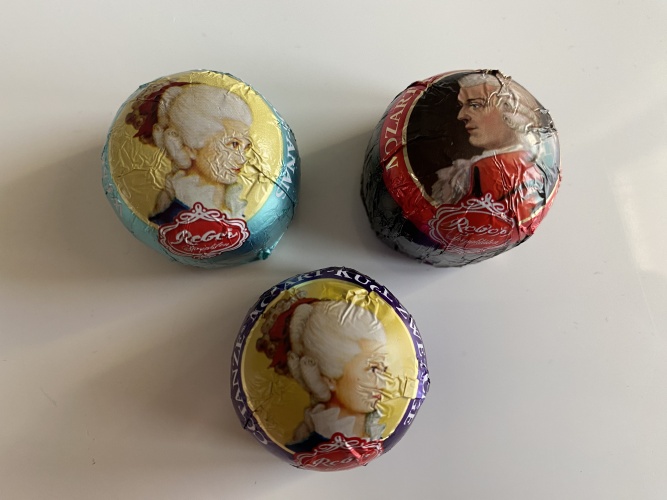 However, Reber also released another variation in fall, the Mozart-Kugel Dark Chocolate. Flavour vise more traditional, but may be interesting for some of you, since it is vegan.
New variations from Lambertz and Hofer
In fall Lambertz added two variations to their Mozart Kugeln, a milk chocolate one and a white one. In both cases, it's mainly the outer shell that changed, but you can buy all three of the Lambert Mozart Kugeln in a nice tin box, which also makes a great present. Hofer also added a white edition. It is however only available in some Hofer shops and is a re-brand of the Austria Mozart Kugel White Edition from Victor Schmidt / Manner.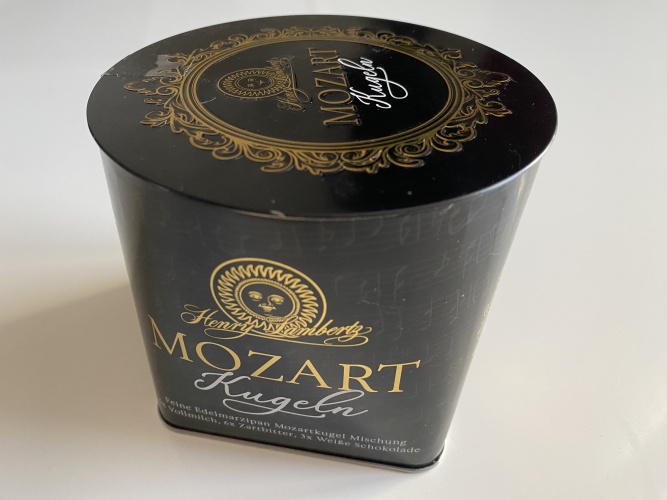 Mozart Koogles from Julius Meinl
A completely new brand are the Mozart Koogles, available at Julius Meinl in Vienna (but in the meantime also in many other stores in Austria). They are available in four different flavours: The classic nougat one, orange, lychee and date & coffee. Fitting for the fruitiness of those new Mozartkugels the wrapping is very colourful and you can get all 4 of them in a practical mixed flavours package.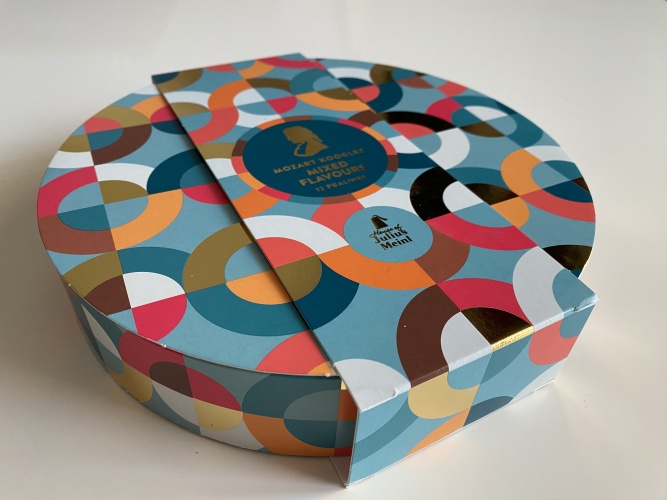 This new brand also replaced the pink-wrapped Mozartkugels available before at Meinl. The Mozart Koogles are also special since they are completely round, something usually only reserved for the Mirabell ones.
Mozart-Kugel by Chocolada
Also mainly available in Vienna are new variations of Mozart-Kugels from Chocolada. The "Classic" is basically what you would expect, so Nougat and Marzipan. But the "Ruby" variation is very unique, it means the outer shell is made out of pink ruby chocolate. On top of that they now also have the Ice-Coffee flavour variation, which is covered in a white chocolate shell and contains coffee-flavored marzipan. The fastest way to get those new Mozartkugels is Billa Corso in the inner district of Vienna.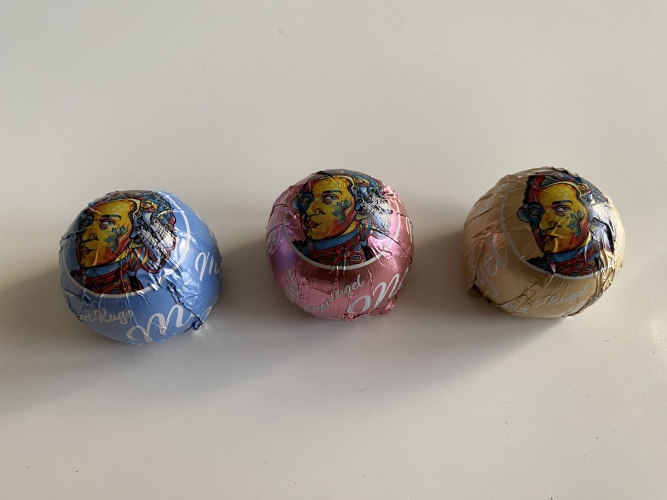 What a year
As you can see, 2022 was quite a year for Mozartkugels. 13 new Mozartkugeln (counting re-brands) are a high number! There are also many new flavors: cocos-pineapple, prune, dark chocolate, orange, lychee, coffee, ruby chocolate, and white chocolate – many new options to try. It's also nice that Vegans now have Mozartkugels. Check out our full Mozartkugel list article if you got curious about the different Mozartkugel variations.
Follow us on Instagram to get the latest Mozartkugel news.